Poetic Links
---
The American Academy of Poets
Poets and Poetry listings
---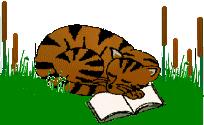 Cat Tales Retreat
A country retreat for writers.
---
E-Zine Listings by John Labovitz A list of e-zines on the internet
---

Micro press publishter of
poetry chapbooks, how-to-write manuals, and web pages
---
An annual magazine of poetry, interviews and reviews
---

Networking organization for writers
---
Poets and Writers
Poets, Writers, Contests, and Markets
---
Two Dog Press
Small Press Publisher for Dog Lovers
---
Zuzu's Petal's Quarterly
A magazine of poetry and fiction
Welcome to:
Poet's Theatre
Poet's Theatre is a monthly platform of readings held a the Senior Citizens Center in Hornell, N.Y. The readings consist of a guest speaker, followed by open readings. The event is held usually on the second Thursday of each month, starting at 7:30 p.m., and is free to the public.
Approaching its 20th year in existence, Poet's Theatre, under the guidance of Beatrice O'Brien of Cohocton, N.Y., has featured such guest poets as: Joel Oppenheimer, Maurice Kenny, Judith Kitchen, Barbara Crooker, and Hayden Carruth.
Guest speaker fees are made possible by a grant from Poets & Writers and the Hornell Area Arts Council.

---
2003 Speakers at Poet's Theater
April 10
Marie Mandiak
Rochester, N.Y.
Poet and editor of Hazmat Review.
---
May 8
C.K. Francis
Accomplished poet from Rochester, N.Y.
---
June 12
Bobby Johnson
Rochester, N.Y.

He has had four books of poetry in print, including Mr. Parker's Song Book. He is a counselor at the NY State John Norris Treatment Center in Rochester.
---
August 14
M.J. Iuppa
Rochester, N.Y.

M.J. Iuppa is a teacher, poet and frequent workshop leader for Writer's & Books in Rochester N.Y. and is curator of Genesee (NY) Reading Series.
---
September 11
Annual Picnic at Stony Brook Park
Dish-to-pass at 7 p.m. Poetry, music, and fellowship makes for a great evening!
---
October 9
Robert Reddinger
A recently retired professor starting his reading series with us!
---
Poets' Home Pages

Meet some of the Poets who have appeared at
Words of Wisdom

Poet's Theatre
20th Anniversary Anthology

Beatrice O'Brien
Julie Damerell
C.J. Houghtaling

Editor
x
Co-Editors

x

Poet's Theatre's
20th Anniversary Anthology!

Edited by
Beatrice O'Brien

Co-Edited by
Julie Damerell
C.J. Houghtaling

Published by
H&H Press
For twenty years, Poet's Theatre in Hornell, N.Y. has served as an important venue, inviting the public to monthly readings featuring budding, as well as established poets.
Poet's Theatre
20th Anniversary Anthology
proudly presents 82 of those poets who have graced the stage and delighted audiences with their Words of Wisdom.
Featuring:
Hayden Carruth, Judith Kitchen, Barbara Crooker, Robert Darling, Joe-Anne McLaughlin, Jerry Fong, Mary Carter Ginn, Walt Franklin, Elaine Preston, Julie Damerell, Beatrice O'Brien, Maruice Kenny, Tony Cosier, Sheldon Flory, Craig Czury, Karen Blomain, Howard Nelson and many, many more.
For a complete contributor's list, click on turning pages.

Only $17.95 + s&h

Order NOW!

or e-mail: Beatrice O'Brien
to learn more!


---

For more information on Poet's Theater, please contact:


Larry Arena
RR 1, Box 285
West Almond, NY 14804